Winters, Christmas, New Year & Holidays – now can there be any better time to laze around in sun curled up with a good book? And since this is a vacation time where many are traveling outside, how about a book for children that's around travel and adventure?
So the first book that me and little one are reading this winter vacation is –
MOANA by Disney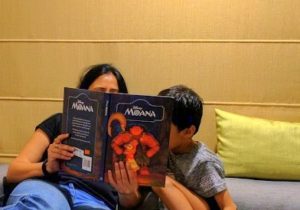 Moana is destined to take over as chief of Motunui one day. But when danger threatens her island, she sets on a mission to save her people. Will Moana be able to unlock the mystery of the sea and discover her life's true destiny? Well, that's for you and your little one to find out through this interesting book by Disney.
The story is quite fascinating, I am sure younger kids would love this adventurous tale of princess Moana.­
Its not gender specific and suitable for both boys and girls. My son who is in general a big fan of superheroes quite liked it.
Visually very, very rich. I mean the pages are literally treat to the eyes, something that totally helps in keeping the attention of kids intact to the pages.
It has a very good message for kids around traveling, exploring and finding your destiny on your own.  It's dreamy but at the same time not very old generation fairy tale type of book.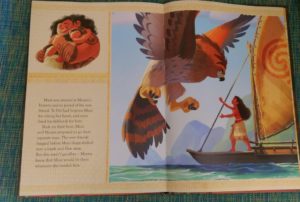 I strongly recommend this book for kids below 10 year age group. And in case your child loved reading this book, you can make him / her watch the movie too that got released earlier this year or vice versa. After all what's a vacation without some good movies 🙂
The book is available for purchase on both amazon and flipkart and I am sure it will be available for rent in your nearby library too. So, what are you and your little ones reading this winter break? Do let us know in the comment section.