At times like these, you wish social media was not this widespread.
Considering my profession, I am all in favor of digital and social, in fact, I have been an evangelist of the medium ever since digital was only about website.
But in this age of data deluge and information overload, at times I wish we knew less.
As the coronavirus is spreading across the world, so is the misinformation about it. Despite many practical and aggressive efforts by prominent social media channels, the speed at which the information and misinformation are spreading is unimaginable.
From baseless magic cures to erroneous statistics, the virtual world is flooded with coronavirus updates from many unauthorized sources.
Drinking bleach, snorting cocaine, DIY tests at home, washing clothes every hour – it doesn't require lots of brain cells to figure out if updates like these are real or fake. Yet these are spreading, causing anxiety and panic all across.
Not that there is anything new about fake social media news but this time due to the intensity of the outbreak, the panic is fierce. Every single update is spreading like fire.
The situation is serious and we must act on things that we should but not every digital piece needs our action, not everything needs to be shared.
Be mindful of the content you are sharing. If you don't know the authenticity of the source, don't share. Every time you pause and think before sharing, you are contributing towards not increasing the panic on digital media.
Follow the official sources to get updates about the numbers and precautions to be taken. Most of the larger social channels have come out with dedicated sections for official information and are trying their best to remove the fake content.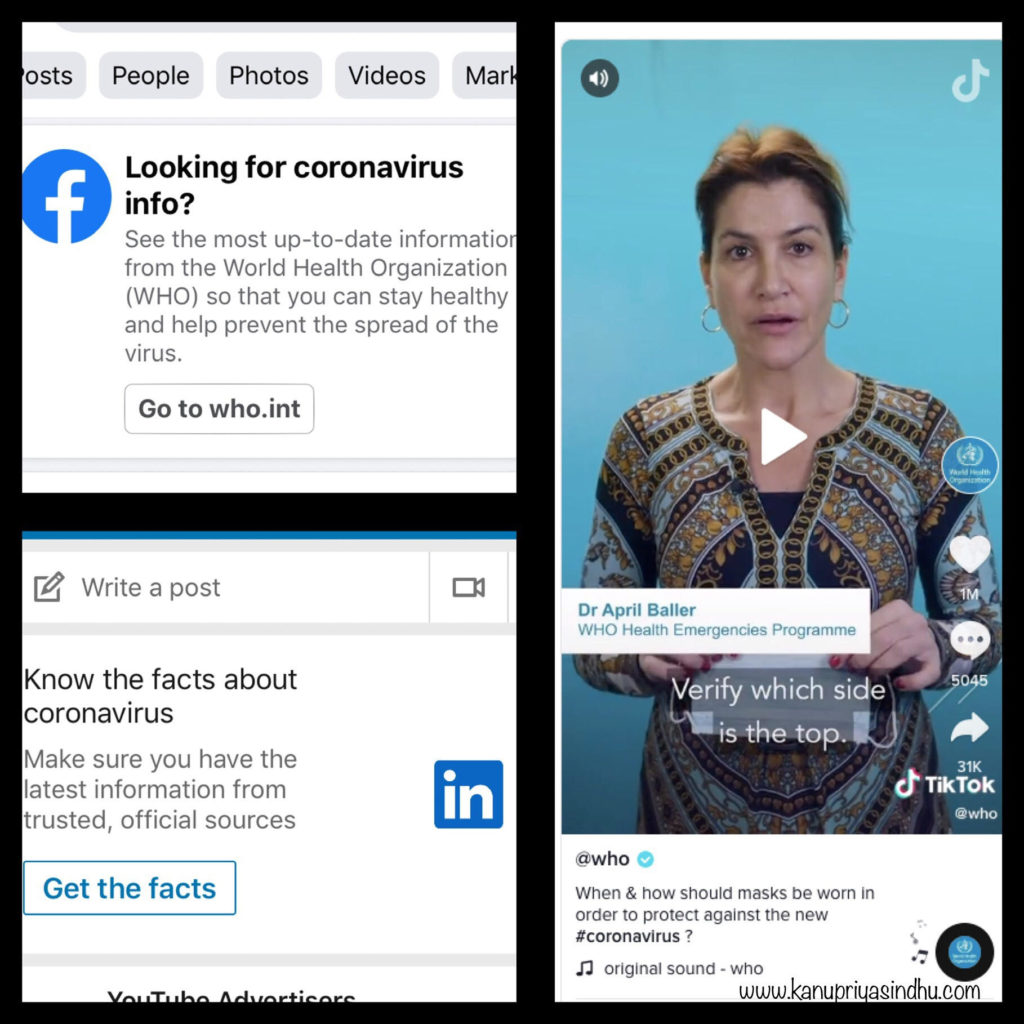 Fake stories of isolation or sad visual updates of self-quarantine only add to the panic, think before you post such updates. Recently spotted some Insta stories by a student who was posting multiple pictures of her disastrous quarantine experience. Lots of comments and blame game on Government were going on that post only to realize later that it was an exaggerated/fake post.
On channels like WhatsApp where it's all the more difficult to differentiate between official updates vs rumors, take additional effort to cross verify the updates on other channels that have official updates.
If you can be of any help to anyone struggling with the situation, definitely do so. I saw some wonderful initiatives like free e-counseling to students being quarantined at the place where I am currently based out of.
Most importantly, be sensible with your travel plans, meet-ups, and personal hygiene. Cooperate with officials by providing all the information correctly. With all the digital footprints that we leave about our lives and quick access to data, it's very easy these days for authorities to figure out if the information provided is genuine or tampered.
Digital is powerful, digital is fast, digital is helpful but at times like these digital can be harmful too. Use the medium judiciously.
Do you have any other suggestions for digital usage during the state of emergency? Let me know in the comment section below and I would be happy to add it to this post with credit to your name.