Digital marketing is agile. Heard it, said it and experienced it many times earlier but I think the recent #CWC15 trend on Twitter is just one of the simplest and most perfect examples to explain this agility. Twitter this time definitely upped its engagement quotient manifold with its live cricket dashboard. It was a very well crafted and well promoted initiative with prompts and alerts at most visible places. Even a non-cricket lover couldn't miss to notice it.
Twitter riding on an event is nothing new, neither marketers trying to grab consumer's attention on all possible screens. But what was interesting to observe was the speed at which marketers could change their communication on this medium, engaging their audience in the moments that mattered, with messages that were contextually relevant at that point of time.
Just look at some of the screenshots grabbed on Twitter last week. Many brands came out with interesting messages that were very different from their general marketing communication, though some surely appeared to be force-fit in their quest to be different or relevant to the game. But overall the noteworthy point was the number of brands advertising on Twitter this time or the number of messages that brands could promote everyday depending upon which match it was and who was winning or losing the game. Imagine coming out with so many options during traditional advertising days? Imagine the cost implication or effort required to do it then? And no, I am not at all comparing the new age vs. traditional medium like television for things like reach. No doubts, television wins hands down at least in Indian market when it comes to reach but if I have to just take the digital medium as a second screen option, then the flexibility that this medium offers to adapt and be real time is fascinating!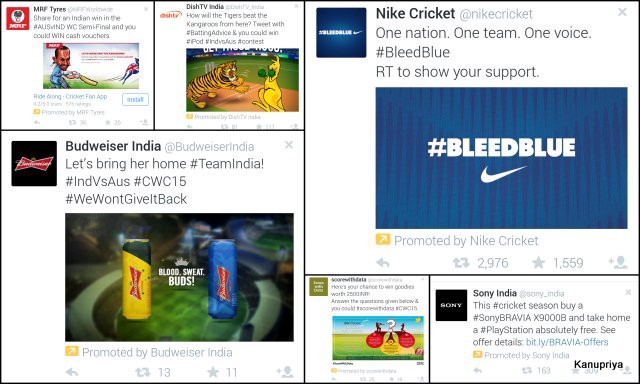 And to me, the one brand that stood out completely on Twitter during ICC World Cup 2015 was Cadbury 5 Star. Not only were they smart in their content, they were also nimble enough to change as required. This Ramesh-Suresh duo knew how, when and what to speak. Otherwise, remember the reactions on seeing those super upbeat ads for any team during the commercial break on television esp. when that team was losing the game.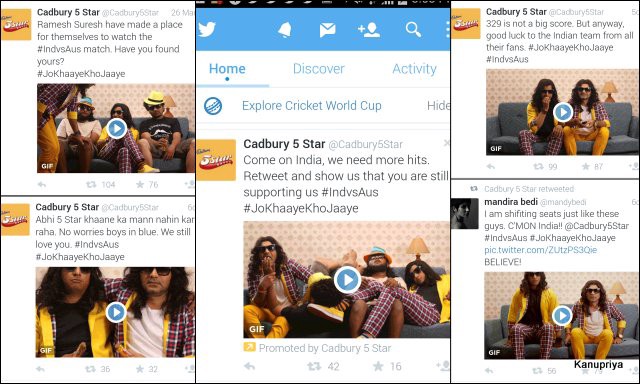 If I have to quickly jot down the steps on how to engage with your audience real-time without going into too much theoretical details of agile marketing, then I would sum it up in just three simple steps:
Listen intently
Communicate constantly
React instantly
Easy, isn't it? Think again :-). How many of us listen carefully before communicating? How many of us communicate judiciously instead of reacting? How many of us react immediately without listening properly? Sometimes the simplest things are actually not so simple to handle and so is the case with digital medium. While the medium is very easy to use but not everyone knows how to use it to its full advantage. And those who have figured it out are already excelling in engaging with their audience on second, third or multiple screens.
BTW, I started my post with digital medium but when it came to referring to this year's world cup, I only used Twitter as an example. I am myself wondering why I could notice all of it only on Twitter and not anywhere else? Is it just me who thinks that Twitter was the most preferred second screen option during this world cup? Would love to read some numbers by other sites but for now I would leave you with this latest post by Twitter that officially states on how #CWC15 played out on Twitter across the world.