It's that time of the year. It's time for Spotify Wrapped :).
See, I told you yesterday, it's December, the month when we will be bombarded with year-end reflection posts. Some that we will be looking forward to. And some that we wish we hadn't seen.
Spotify Wrapped is an interesting example of that. Some laugh at it, some love it, and some hate it. But despite the love and hate relationship with it, people share it. And as a product marketer, that's the most intriguing part of it for me. 
The moment I spotted #2020Wrapped in my Spotify app, I headed to Twitter. And as expected, it has been trending on all social channels. Full of funny memes, as well as happy messages.
From artists to listeners, everyone is sharing their unique #SpotifyWrapped story leading to virality and buzz. Beautiful design, engaging content, appealing presentation – everything about #SpotifyWrapped is what we can call "share-worthy". Share-worthy. That's a word I picked up from the book "Fast, Cheap & Viral" by the Indian author Aashish Chopra.
Content that connects + provides value + compels us to share = viral content. 
Spotify Wrapped has all of these and more, making it an engaging property that everyone looks forward to at the year-end. The equation sounds simple, isn't it? In reality, it takes a lot to create something as sticky as this. Something that holds the interest of all concerned in the value chain. And kudos to Spotify to be able to pull it off year after year with the same charm. The value of shareworthy content in the digital age is priceless.
Summary of my #2020Wrapped? 
My son was right – I listen to the same song and singer again & again. In loop. Many times, he has asked me – "Mumma, how many times would you listen to the same song? Don't you get bored?" Seriously, quite a boring personality I am :). 
I am happy with my choices of podcasts. These are the genres that I thought I liked and care for.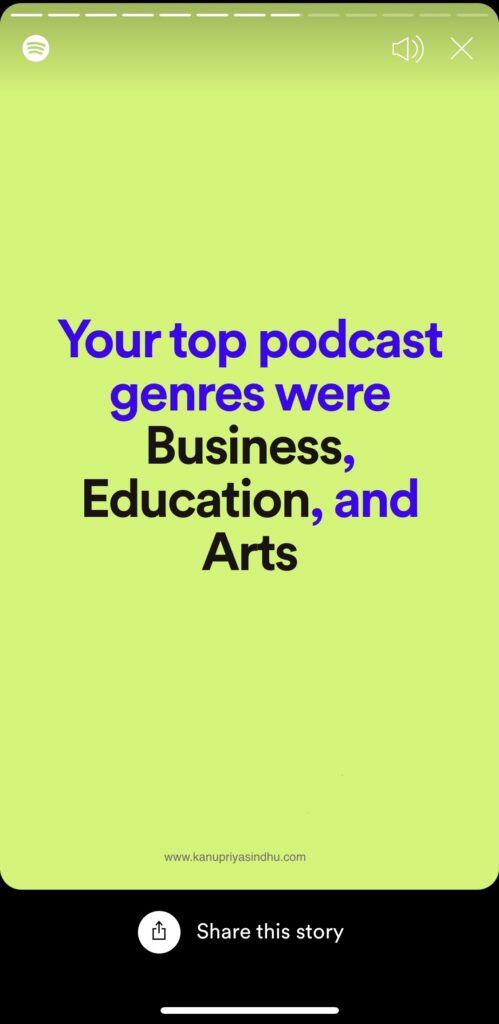 But if I think I have evolved in life over the years, my music choices do not exhibit the same. I am still stuck with the singers that I used to listen to 20 years ago 🙂. 
Speak of things that data makes you realize about your own life 😀